Post by celine on Jul 3, 2013 19:29:07 GMT -5
3rd july 2013
Donald Marshall.....
PRINCESS DIANA SPENCER,... was murdered in a near foolproof plot, Diana attended the cloning center regularly, she thought they were zapping her into the 5th dimension, Diana was NOT very smart at all, one of the dumbest clones that I've met there, like drones there, Anyway, she used to sit there and watch me make songs, she was a camera ham, she used to come out of the crowd and say "sing a sung fowa mah Dun" looking straight faced, I said no I don't want to help you guys, she then proceeded to stab and cut me with a knife while I was chained vertical on an 8x8 wooden cross, she had NO way to entertain the crowd of celebs there, like Elizabeth, so it became her thing to interact with me... she clone tortured me multiple times, thinking she was the celeb of celebs, they were ALL watching her, she LOVED the attention,... anyway she'd stab me up, I'd make a song of ANY genre just to get the rotten thing away from me for one more night, sometimes Queen Elizabeth would join in. THEN... she started to dislike how they'd drug her clones and make her loopy and Prince Charlses "friends" would assembly line sex her up. She left Charles as Charles was angry at how she was so promiscious, (even though Charles was the same way and worse but he was "allowed") SO she left, was about to Marry an Arab named Dodi Fayad. The British Royal family hate arabs Muslims and blacks as a whole and they didn't want the marraige to take place. SO they had her driver,(a host or chiphead himself) go along with a plan, He took a different route through the tunnel where they crashed, she always took a specific way, that she felt safer driving in. Before the tunnel or after it is a bunch of lights on a hill, shaped like a triangle with one blue light in the middle, Illuminati symbol,... they went into the tunnel, an agent drove up alongside and shone the brightest light man can make into the side windows of the car, in case she survived and was talking this would be an excuse for the driver if he survived, as to why he swerved, he claims to have no memory of the crash, but he does... she lived though and got into an ambulance, but that was signing her death certificate as the hospital was only waiting to finish her off, Unknown what the actual cause of death was but they "said" it was an injection of a high concentration of salt, it's near undetectable and has been done many times. The Illuminati had me make a song about it like nearly 10 years ago, and they released this song 10 years after her death,.. it is her death song, it's not all about Diana only, it is about me her and Elizabeth. I'll explain the song in the following comments. She was not the humanitarian you think she was,... she was only into childrens charities to get on Camera, she loved being in the enquirer it was her stage,... she was not a nice person I assure you.
Donald Marshall.....
White Lies- Bigger Than Us Lyrics
Donald Marshall........ This song is her death song I was forced to make. Diana's last last words were "it was my ex -husband Charles." BUT leading up to the crash...... she noticed the driver had gone a different route home, she looked up and yelled "you took the tunnel road home!, you've NEVER taken that way with me before!!! (then calmly) did you feel the need for change?" He said "yes,well I thought some different scenery." She Interrupted and said I don't pay you to think I pay you to drive!, If you ever do something like this again you will be replaced." He said "Alright" then crashed.
Donald Marshall......... now why the video is cryptic in spots and doesn't seem to make sense... Each time Diana would hurt me as clones badly I would be a delirious mess, and she would do the same thing each time... cry as if she was sad about how much pain I was in,... she said she loved me and she was sorry... it was a practiced scripted thing it seemed, same thing each time,... I told her she was ugly and I didn't know why people held her on such a high pedestal, with her bulgie eyes and her nose was bigger than Prince Charlses lol,... she grabbed my face and dug her fingernails into my cheek and started to tear my face apart pulling it off, her fingertips literally through my cheek and her enraged, embarrassed I had the "gall" to speak about her in such a way especially with everyone watching at the zone.
Donald Marshall...... the actual video is a reference to when Drew Barrymore and I were helping with the movie E.T... role playing there to come up with script lines... they do that a lot..
Jasmin Begovic........... "sing a sung fowa mah Dun" .... plesse Donald, there are people here who's mother's tongue IS NOT English...try something easier tto understan ... thanx
Donald Marshall........ it doesn't say like intermittent radio waves,... I said like internet OR radio waves... even then I was biding my time until I could inform on the internet and any radio outlet I could find.... I could not wait!!!!
Donald Marshall........ sing a song for me Don.
Donald Marshall ........anyway... second verse... Queen Elizabeth brought me to a different cloning center once.... I was naked there, everyone else had clothing, that is a Nazi psychological ploy to make people look at you as less than human and not care about what happens to the person as their indecent or something, people just want the naked person gone... its weird... ANYWAY in this place, an arena too, but a WHOLE bunch of people from a specific religion (that I won't mention the name of) they believe in torturing animals and people for the glory of their fake God, the more the animal or human screams the more their God likes it... anyway this night they were torturing horses,... and the things were screamin... everyone sitting around was getting aroused by this, Elizabeth thought I'd like it or something, treated me like her little pet doggie naked guy sitting right next to her in the stands, watching these horses get cut up slowly..
Donald Marshall ........I was only there once... I called them a bunch of retarded losers and they brought me back to the regular clone center and tortured me bad... I was memory suppressed at the time, and all I knew in my real body was that I wasn't having any dreams and was waking up sick for some reason a lot,.. I'm very healthy and went to the hospital a few times, nothing, I started thinkin I had a terminal disease or something, but it was side effects of clone torture.
Donald Marshall......... album cover for this song... clones
Donald Marshall ........
images.google.ca/url?sa=i&rct=j&q=white%20lies%20bigger%20than%20us%20cover&source=images&cd=&cad=rja&docid=X0PFhO7dwMW13M&tbnid=JqycmyDUzoNVYM:&ved=0CAUQjRw&url=http%3A%2F%2Fblahblahblahscience.com%2Fvideos%2Fwhite-lies-bigger-than-us%2F&ei=DYPUUY7NFobkyQHr3YAw&bvm=bv.48705608
,d.aWc&psig=AFQjCNG3euzYtgTv_MUW7r6DhnNkdeWGUg&ust=1372968071931188
Redirect Notice
images.google.ca
Donald Marshall......... Diana Spencer was a rotten whore and I wish she was still alive so that I could stomp on her wonky face. Sorry to ruin your illusions, but she was not what you think.
Donald Marshall....... that's that.
Hilary Courage ........I am sad you have suffered so much....your spirit has already given so much. I hold good thoughts up for you...and that you may always have someone to give you comfort in these days my friend
Hilary Courage......... thanks for doing all you can to enlighten us
Donald Marshall ......duty
Hilary Courage....... if we all followed our duty to each other...we could disconnect their programs and their designs....you have integrity of purpose, as do they...most of us just wanna go fishin...lol...but true
Donald Marshall........... on a mission, I have primary objectives, secondary objectives and bonus objectives, my personal happiness and prosperity is a bonus objective.
Hilary Courage .........so should we all be....our lives have a Spiritual Mission...that is beyond the physical ~ but life is hard these days ~ I pray everyone has a hand to hold. Stay well my friend
Celene Alf Menschel....... do u know locations of bases ?
Jasmin Begovic........
www.facebook.com/photo.php?fbid=284501738362054&set=a.188685794610316.65289.188683081277254&type=1&theater
Timeline Photos
Queen Elizabeth and Prince Philip.
Then and now.
Donald Marshall........... a lot of the bases locations are public knowledge, just can't get in because it's above top secret.
Celene Alf Menschel .........can u share us some locations ?
Donald Marshall......... google em.
Donald Marshall ........deep underground military bases.
Al Vin.......... Always felt she was a media hungry, celeb obsessed old strumpet - so no illusions shattered for me.
Al Vin..... The queen watching horses being tortured has intrigued me, as I watched something this morning about her passion for horse breeding/training, and it was the only time I've ever seen what appeared to be genuine affection when interacting with the horses.
Al Vin...... I did wonder whilst watching it, if it was all an act and she tortured them at CC.
Donald Marshall ......She went where the horses cry, she'd never taken me to that place before, did she feel the need for change.
Al Vin........ Are the animals at CC clones or originals? I was observing how the horses reacted around her on camera, there were a couple very skittish.
Donald Marshall......... real animals,.. sometimes real humans they bring there unaware. killed or get droned or chipped. Some animals freak out around clones, they sometimes know something isn't right,... Prince William almost got a hoof in the face at the opening ceremonies of the Olympics, live... so they cut the camera,... he tried to grab it by the reins but it reared up and almost kicked him. Other animals freak out around clones sometimes, dogs n cats and other things.
Al Vin .......FFS, evil evil evil. I absolutely believe animals sense these monsters, I've witnessed it. They must smell different I think.
Al Vin .......The clones I mean, smell rotten.
Randi Ellen..... Wow Donald, you are a survivor and a man of great courage. Although I knew the leaders of the world are corrupt just never imagined how extreme. Thank you for exposing the work of these evil forces. May God Almighty keep, bless, protect and deliver you from all evil
David Cohee....... Thanks Donald...quick question and you may have covered this before; how does the real person (you) feel pain when their clone is abused? Also, if you could explain the REM visits I would appreciate it..
Celine O'carroll......
WHITE LIES LYRICS
You took the tunnel route home.
You'd never taken that way with me before.
Did you feel a need for change?
Apologies on your fingernails,
Love flickered in the city of lights
Like intermittent radio waves.
I don't need your tears
I don't want your love
I've just got to get home.
And I feel like I'm breaking up
But I wanted to stay.
Headlights on the hillside
Don't take me this way.
I don't want you to hold me
I want you to pray,
'cause it's bigger than us.
You went where the horses cry
You'd never taken that way with me before.
Did you feel a need for a change?
Guilt smeared across your lips
I was tired and cold from the window.
You're tired nothing has changed.
I don't need your tears
I don't want your love
I've just got to get home.
And I feel like I'm breaking up
But I wanted to stay.
Headlights on the hillside
Don't take me this way.
I don't want you to hold me
I want you to pray,
'cause it's bigger than us. [4x]
Kim Person posted a pic...
.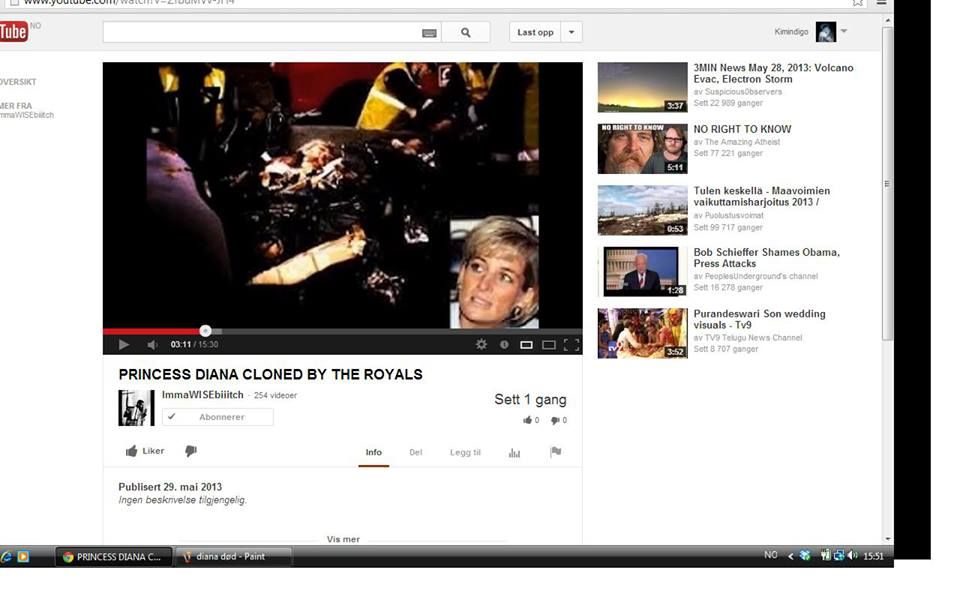 Celine Ocarroll ...direct link.......
Donald Marshall I've explained in older posts David, It feels real as real.
Melissa Hartman A Brit from a long bloodline says... "sing a sung fowa mah Dun" Really Donald...? She was spurned by the Royal bloodlines and was genuinely in fear for her life...she was the antidote not the poison...
Donald Marshall she was probably a drone... she was mean as a motherfucker, do not presume to know... LOTS of people in the world think that the POPE is the personification of "goodliness" in the world! Does that mean you would let him babysit your kids for the weekend???
Donald Marshall yeah they talk wonky as fuck.... hardcore accent, can barely understand them,... "woggie wog wog, worgle woggie wog worgle." Bogga.
Donald Marshall love how people assume to know shit.
Melissa Hartman Donald - I am not doubting she came from a murky world and was projected into an even murkier world... as a woman with the same birth date and believing in astrolgy she had no chance... I am glad she was able to get some info out there before they bumped her off...do you not empathize with her on that...?
Donald Marshall she used to torture people at the cloning center for a sick fascination and to show off for the celebrity clones there,... "oh you think your evil? hmmm? oh I can be a dreadful evil as well if I want to be she'd say" I wouldn't say this if it wasn't true.
Melissa Hartman willingly... or unwillingly... I would suggest it was unwillingly...
Donald Marshall she was an opportunist... and she was partially retarded.
Donald Marshall A camera ham, she cared only for herself. She was an actor.
Donald Marshall Once she left Charles she had NO GIMMICK for the cameras... she would sit in a café, people would photograph her, BUT SHE HAD NOTHIN... it got old,... she needed a gimmick, a reason as to why these cameras were flashing, because the novelty was wearing off, SO she got into childrens charities, ONLY to use this venue as her new gimmick and claim to fame... Diana was a willing attendant of the cloning center for at least 10 years... and did what the rest of them did. She liked being surrounded by the celebrities.
Melissa Hartman She was a casualty...
Donald Marshall you can assume what you want, the woman was insidious.
Melissa Hartman I disagree... she got caught up with the firm as a teenager... simple as... you think she had issues... wait and see how Miss Middleton fairs...
Donald Marshall I know how Kate Middleton fares.
Melissa Hartman Please do share!!!
Donald Marshall Diana tortured the shit out of me to show off for like minded filthy scumbags, do not tell me that she was rainbows and sunshine.
Donald Marshall Why? you seem to have your own enlightened perspective on these topics.
Melissa Hartman I'm not Donald not at all - I asked how will it go for Miss Middleton...?
Donald Marshall ........she'll be freed from a nightmare.
Melissa Hartman You reckon...? What was your take on having to be hospitalized in first 3 months of pregnancy...? Can a human carry a vrill... without it poisoning them...?
Donald Marshall dunno.
Melissa Hartman ... so many questions...
Donald Marshall answered most FAQ's in older posts.
Melissa Hartman That old chestnut...
Donald Marshall William made Kate eat nothing but salad and lemon juice in an attempt to make her thinner, he wanted her bone skinny,... it was terrible. Kate is a prisoner basically.
Melissa Hartman And Diana wasn't...?
Donald Marshall something really sad was said to me at the cloning center... they were telling me all about it, when they were sure I wouldn't succeed,... she was "permitted to use salad dressing after a time" I said to her "aren't you going crazy just eating sala...See More
Donald Marshall Kate is a prisoner.
Donald Marshall .....William is a rotten bastard.
Melissa Hartman...... Don't doubt it - that was not the question I asked...
Donald Marshall did I get your $29.95 yet?
Donald Marshall lol
Donald Marshall Do I empathize with Diana? No I do not. I know what her motivations were and they were not good.
Melissa Hartman Thank does not answer the question either... just shows fiscal greed or poor humour..
Donald Marshall well.... I just read back,... you asked if I empathize,... I answered you... fiscal greed or poor humor? What are you talking about?
Melissa Hartman Donald Marshall did I get your $29.95 yet?
Donald Marshall yeah that was a joke... what you getting at?
Melissa Hartman Answers to questions... nothing major!!!
Donald Marshall whatever dude.
Donald Marshall........... Go find your answers from David Icke, Jesse Ventura or Alex Jones. lol.